DETROIT IT SERVICES & BUSINESS IT SUPPORT
For Business Customers Throughout Metro Detroit
Managed IT Services & IT Support for Detroit Area Businesses
Stop Focusing So Much on Your Technology and Get Back to Focusing on Your Business
When leveraged properly, technology should be more than just another tool for your business - it should be the key asset you have in terms of growing at the rate you need, being as productive as your industry demands, and doing the type of work that your own clients deserve.
But when you're dealing with the same IT support issues that keep coming back again and again, this is a lot easier said than done:
You're working for your technology, and that is absolutely something you shouldn't have to deal with any longer.
Now, we're happy to say, you don't have to - at least, not anymore.
VIRTUAL IT DEPARTMENT
Complete. Local. IT Management.
At InsideOut Networking, our unique approach to managed IT services breaks down into a few core components: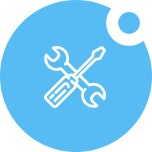 All of our maintenance and IT support services include unlimited remote & on-site support at a fixed, competitive flat fee. This puts us in the best position to fix problems once and for all.
We rapidly respond to all issues that are reported through our help desk portal, email, & phone extension.
All of our solutions are documented and are made readily available to the whole team, guaranteeing that the types of common issues you're facing won't be "common" for very long.
On the IT consulting side of things, we do a thorough field review to identify and recommend solutions that line up with your long-term goals as a business.
We will become your dedicated IT managers, and since we use a flat-rate plan, you will ALWAYS know what to expect in terms of what you're paying for and what you're actually getting. Since 2004, we've worked with thousands of different clients and have fully managed the IT departments of dozens of companies in all shapes, sizes, and industries. If you think you can't afford an IT department, you can. If you think IT issues are just something you have to live with, guess what - you don't.
With the proper level of IT services and support, there's literally nothing your business can't accomplish. That's exactly what we want for you and, at the end of the day, that's what our IT consulting and managed services are all about.
Are You Ready
For a

Great

IT Support Experience?
Getting started is easy. Give us a call at 248-825-8215 or click the button below, and we will get in touch with you to set up an introductory phone call.
INSIDEOUT NETWORKING
We are your local IT services company based out of Troy, Michigan.
Founded by brothers Dave and Dan Goodenough, our local team has over 30 years of experience in the IT industry. Our goal is to provide the full value of an internal IT department at a fraction of the price. Just a few of the benefits of working with us include:
We are never unavailable due to vacations or sick days and don't require you to pay benefits or manage any of the hassles of a full-time employee.

We believe in earning your trust, rather than binding you to a long-term contract. We simply start with the right price and do a great job. A relationship like this is very much a two-way street, and this is how we earn your trust and continue to prove our worth day in and day out.

Not only that, but we offer the lowest price guaranteed — we'll match any competitor.
We've created a custom process from the ground up, that includes three main components necessary for an effective IT department: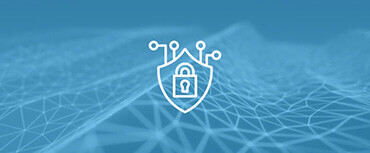 As soon as we take you on as a client, the first thing we do is get all of your IT systems into an optimal state that we can manage going forward.
Beyond providing friendly and responsive help desk IT support, we proactively provide ongoing maintenance to keep everything in an optimal state and running great. 90% of what we do on a day-to-day basis will be proactive maintenance that will prevent most issues from ever arising.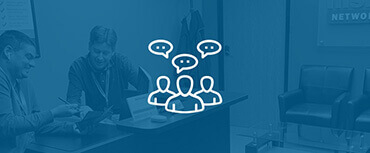 With quarterly meetings to stay in sync, plan ahead and manage upcoming IT changes together, we enable your business to take the right steps for the right challenge at precisely the right time.
But seriously, don't take our word for it. Our clients are the lifeblood of our business and they are more than happy to advocate for us. Tanya, the office manager of a medical practice in Rochester Hills, recently had this to say about working with InsideOut Networking:

I have found it saves us money to work with InsideOut Networking rather than have an IT technician on staff.
"InsideOut Networking functions just like an onsite IT technician or department. They are quick to respond to issues. They have a team with multiple techs who are always working in unison. They work with a ticket system that streamlines all projects with notes and tracks all work done on a particular issue. I trust that no matter who contacts me or works on our tickets, if the tech changes mid project, they will continue to provide the same quality work as the previous technician. I have also experienced complete honesty from this team. If they don't know an immediate answer to our issue, they do the research needed to fix the issue correctly the first time. InsideOut Networking's rates are very reasonable and cost effective."
FREQUENTLY ASKED QUESTIONS
Periodic hardware failures and new or updated software are common. Although not considered maintenance, we include handling these situations alongside general maintenance, and they are included in our IT services.
We designed our Virtual IT Department to make it easy to delegate all IT related issues to our support team. We encourage all staff to report issues directly to us, so we can keep track of what is going on and resolve issues faster. With our flat-rate monthly pricing, there is no risk of surprises and additional fees.
Are You Ready
For a Great IT Support Experience?
Get in touch with us so we can learn more about your business and find the best ways we can help. We designed our IT support pricing to specifically meet the needs of medium and small businesses, allowing us to offer an extremely competitive and flexible IT support package that our clients really appreciate.
Call our business managed IT services department directly at 248-825-8215 or simply fill out this form and we will get in touch with you to set up a getting-to-know-you introductory phone call.
METRO DETROIT OFFICE:
560 Kirts Blvd. Ste 101
Troy, MI  48084
PHONE:
(248) 850-2276 (main office)
(248) 825-8215 (business inquiries)
TROY OFFICE:
637 E Big Beaver Rd., Suite 109
Troy, MI 48083
PHONE:
(248) 850-2276 (main office)
(248) 825-8215 (business inquiries)
"They meet the needs of our company from the smallest issue to the management of our entire system."
Karen - Owner / Elite Fence Company, Chesterfield, MI