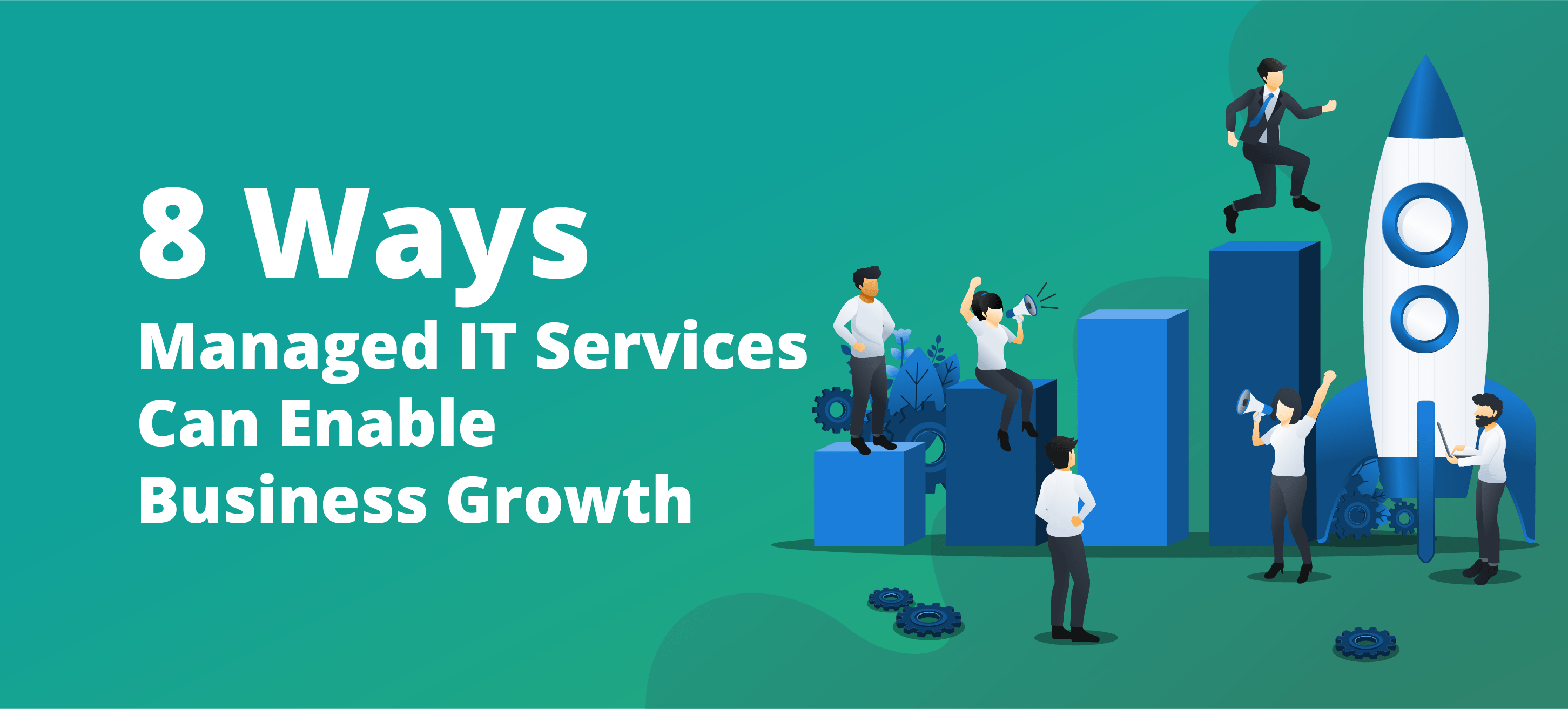 8 Ways Managed IT Services Can Enable Business Growth
Information Technology plays an important role in the hassle-free functioning of businesses. The efficient management of IT infrastructure is crucial to driving critical operations forward. Managed IT services can help in this regard.
According to Statista, the managed services market was valued at approximately $186 billion in 2019. It is estimated that this figure will increase to 356.24 billion by 2025.
This signifies the need for an experienced managed service provider (MSP) who can proactively perform the following:
Constantly monitor IT infrastructure
Curb risks from cyber threats
Maintain data integrity
Manage networking requirements on par with key performance indicators
Partnering with a managed IT service provider enables businesses to take charge of their technical operations efficiently, which in turn, maximizes efficiency and productivity.
What Are Managed IT Services?
Managed IT services for small businesses involves the delegation of IT operations to a third-party organization. This organization, referred to as the managed service provider, is typically experienced in meeting the IT-related demands of the business. These include managing IT infrastructure, providing IT equipment along with round-the-clock monitoring, issue resolution, reporting, and more.
How Do Managed IT Services Benefit SMBs?
They offer overall management, monitoring, and proactive support to the organization network, including infrastructural hardware and software components.
They help optimize the performance of the complete enterprise system.
MSPs fine-tune IT systems for cost savings and optimization in different functional areas.
They take charge of complete IT requirements while boosting compliance, security, and maintenance, thereby enabling better focus on strategic business goals and core projects.
How Do Managed IT Services Contribute towards Business Growth?
Managed IT services contribute to accelerated business growth in the following ways:
Improves Efficiency and Reliability of IT Functionalities
Organizations usually maintain a generic set of IT staff who may not be specialists and lack definite skills with handling shifting technical demands. Managed IT services offer an extended team of IT experts based on specific organizational requirements. They help provide access to the latest technology and business-grade solutions like remote monitoring and management, backup and disaster recovery, and cloud computing. MSPs also help maintain uptime and profitability.
Boosts IT Security and Compliance
Cybersecurity Ventures predicted that cybercrime will cost the world $6 trillion annually by 2021, up from $3 trillion in 2015. This figure represents the risks involved in incentives for innovation and investment.
Business security plays an important role in setting organizational and operational priorities. Devices that are used in the workplace, like laptops, desktops, smartphones, applications, tablets, servers, operating systems, browsers, and wearable technology, all transmit data and need to comply with strict security measures.
Engaging MSPs to take charge of security and compliance will help as they understand the importance of security in the technological perspective along with the need to adhere to regulations like GDPR, PCI, and ISO.
Helps Save Costs
Cost saving is one of the most critical benefits of adopting enterprise IT managed services. Common problem organizations face is reducing additional workforce in the IT department due to heavy costs. At times, employees are asked to take care of tasks other than their area of expertise. This results in decreased productivity and controlled business growth.
By adopting the managed services model, companies can predict and plan the monthly IT spend. MSPs deploy the right number of experts with the required skill set that performs efficiently and consistently. This, in turn, frees other resources of the organization to be expended on higher-value tasks.
Offers Better Approach to Maintenance
Planning and thinking about key IT-related issues like daily IT operations, reliability and performance of the network and the state of the IT environment take up considerable time and effort. Managed service providers offer 24*365*7 coverage. Their services include enabling remote management and monitoring, identifying threats at an early stage, and deploying suitable solutions to mitigate risks.
Fully-managed IT support will help troubleshoot and remediate bugs. Organizations can make use of proactive technical solutions to maintain IT infrastructure that offers business continuity.
A managed service provider offers access to network management resources, cloud storage, and trained IT experts without upfront investment.
Improves Focus on Strategic Projects
Managed services can help your business maximize employee productivity and satisfaction. Having a team of expert technical professionals in your corner will enable better utilization of IT capabilities, thereby increasing operational efficiency.
Additionally, these services also empower the core IT team members to better allocate their efforts towards strategic IT projects and initiatives.
Helps Stay on Par with Latest Technology Advancements
Businesses must keep up with the latest technology trends and adopt them to ensure technical growth and success. Outsourcing technical requirements to an experienced MSP is the most suitable and cost-effective way to do it. MSPs keep your IT infrastructure up-to-date and fully-equipped with the latest security patches and software updates to ensure business and operational security.
MarketsandMarkets forecasts that the global managed services market size will grow from USD 180.5 billion in 2018 to USD 282.0 billion by 2023. This growth is at a Compound Annual Growth Rate (CAGR) of 9.3% during this period.
It has been predicted that the major growth drivers of the market in this period will include:
The need for cloud-based managed services
The dependence of organizations on IT infrastructure to enhance their business productivity
Availability of specialized managed service providers to offer cost-effective managed services
Enhances Scalability and Round-the-Clock IT Support
Unexpected downtime can result in lost business opportunities and unhappy end-user/customer experience. This report shows the average cost of critical server outages for businesses. Based on inputs from 25 respondents, the average hourly downtime cost of the servers is between $301,000 and $400,000. A managed service provider helps reduce potential downtime, thereby saving additional costs.
Furthermore, MSPs provide 24*365*7 IT and networking monitoring services that ensure the availability of IT infrastructure and enhance its scalability based on the demand. This improves operational efficiency.
Improves Business Productivity and Adds Better Value
Managed IT services contribute to enhanced business productivity by building an IT environment that is reliable, streamlined, scalable, and well-supported. Managing an organization's IT needs several skills and tools. One of the most appealing reasons for using an MSP is to gain access to network management resources along with a team of highly trained IT experts without making a large up-front investment.
A strategic MSP-hiring process includes probing the right type of questions to the core IT team of the organization to ensure that the business is addressing the correct issues and planning the right investments in line with the business growth and strategic plan.
Wrap Up
MSPs focus on servicing end-to-end IT needs so that organizations can better focus on their core operations. Managed IT services are designed to help boost operational efficiency, improve user experience, and accelerate businesses forward.
Adopting this proactive approach helps businesses prevent major disruptions through constant monitoring and analysis of the IT infrastructure, as well as fixing issues before they adversely impact technical operations.
Do you need further information on our compendium of managed IT services? Reach out to us or visit our website for more details.
I'm Dave Goodenough. I started InsideOut Networking in 2004 with the idea that if we could cut through all the jargon and tech speak and just have real conversations about computers and technology, we could help a lot of people out and develop long-term relationships with our clients.
Today, we have over 2,500 clients who trust us to make sure their computers are always up to date and protected from security threats, allowing them to do exactly what they need. If you'd like to find out if we can help your business, please contact us today.